The Crisis in Africa and Who We Serve


Help the people and children of Africa
14 million people, half of them children, are at risk of starvation in Sub-Saharan Africa.


Today 3 million children live with AIDS and over 13 million have been orphaned by AIDS, most of them in sub-Saharan Africa.


Every 30 seconds two children become orphans due to HIV/AIDS.


Kenya has the FOURTH largest AIDS epidemic in the world. This has resulted in over one million orphans!


Every year, five million people die from unsafe drinking water and unclean domestic environments.


Because disease has claimed the lives of so many adults, the majority of those now living in Uganda are children under the age of 15.


In Uganda, more than 250,000 men, women and children lack enough clean water to sustain them on a daily basis.


Nearly 700,000 people living in Tanzania do not have enough food to eat and are facing starvation!


The average life expectancy in East Africa is less than 45 years.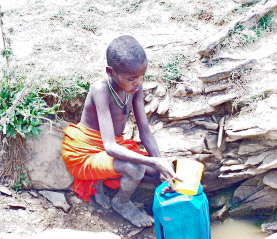 ---
Child Sponsors Needed in These Locations
Sponsoring a child is a most rewarding choice and making donations surely goes a long way helping the children. Donations provide a great way to show your support for the children and contribute immensely to their daily living and well-being. Knowing that your donation helps a child receive an education, have healthy food to eat, receive medical attention, and to live in a proper shelter is such a blessing for these children..