Suguta Marmar is situated in Kenya's arid northern territory. It can only be reached by driving on a dirt road for several hours. It is very remote, and the people still live in tribal villages. There, the Missionary Sisters reach out to provide emergency as well as long-term assistance through their Early Marriage Rescue Mission - ministering to girls as young as 8 years old who are being "bartered" into marriage. A family with a young girl is often promised a goat in exchange for the girl when she reaches 11 to 13 years old. This is a custom of the Samburu tribe.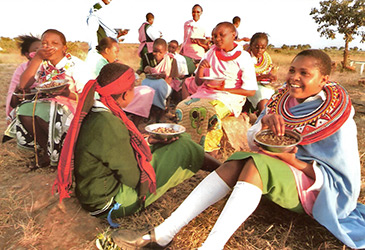 A Kenyan child can start school at any age, and many will not graduate from high school until they are between 23 and 25 years old. Education past the eighth grade is not highly valued and was not available, in this region, until the Sisters built Bishop Perlo High School as part of their Rescue Center. Through the Rescue Center, the Missionary Sisters provide food, clothing, shelter and education to young girls who have nowhere else to turn. Suguta Marmar girls eating a healthy meal.

Letuuni was brought to the Rescue Mission at 7 years old. She is an orphan and had been terribly abused by men in the streets. After a brief stay in the hospital, she came to the Center where she has been treated with the love and care of the Sisters. Letuuni has been sponsored by our donors for over a year. Please, will you sponsor one of the children below?