We are Sisters of Mary Immaculate of Nyeri-Kenya, a Religious Congregation founded in 1918, by the Consolata Missionaries. Our Congregation was founded for evangelization. Therefore, we continue to carry out that Mission in Kenya and other Countries in the world. In Uganda We serve the people of God through teaching, medical care, pastoral work, social work and self sustainability projects like agriculture.

Our Congregation was invited to Masaka Diocese Uganda, by the then late Bishop John Baptist Kaggwa. We responded to the invitation and that is how we first came to Ssanje Parish in December 2010. We established Mary Immaculate Education Complex in 2011 starting from nursery. The School has attracted many parents and at the moment it has around 650 pupils. It is both day and boarding.

We had so many challenges, one being that the catchment area is composed of people who are financially straining to educate their children. So we have had this challenge whereby we had to put up facilities, and are still constructing facilities from the Congregation kitty in Kenya. Some of our children are from very poor background and cannot even afford the little fee we charge them for their upkeep. Consequently, this affects their performance. We have to pay the staffs who work in this school.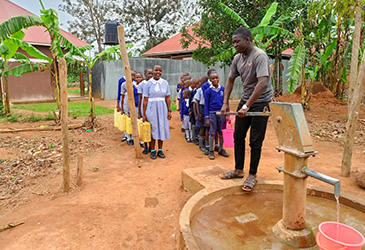 We are therefore requesting for financial assistance for the following children in various classes of our School. This will go a long way in educating them so that they can learn without any interruption for the betterment of their future. Our School is one of the best academically performing in this region.