Our History, Our Mission


Founded in 1918!
We, the Sisters of Mary Immaculate of Nyeri (Also known as Missionary Sisters of Mary Immaculate) are a religious family that has inherited the precious gift of the Holy Spirit's passion and compassion that irrupted in the consciousness of our founders Mother Julia Muthoni, Mother Josepha Wambui, Sister Filippina Njeri and Bishop Filippo Perlo.
Our founders bravely responded to a powerful voice in their hearts to become religious sisters at a time "when woman was morally and socially degraded that she appeared not only as the slave of man, but also as a beast of burden". Through their "YES" to God's inspiration, our family came to be in existence on 18th October 1918. We are called to develop "a most intense desire to become totally His and to leave everything, all for the love of Jesus".
In founding the congregation, Bishop Perlo -- an Italian missionary who himself had come to Africa in 1902 to live and work -- believed that anyone who would come to be a part of the new congregation must follow in the footsteps of our Lord Jesus Christ . . . in caring for the poor, the needy and those who were suffering. Today, with more than 400 Sisters, we continue to hold closely to the belief that it is the duty of all Christians to reach out on behalf of those who cannot care for themselves. We are currently serving in Kenya, Uganda, Tanzania, Zambia, Italy as well as in the United States of America.
The Sisters of Mary Immaculate currently staff and provide administration for eighteen primary schools, five secondary schools, and three skill-development centers that provide vocational training throughout East Africa. Additionally, the Sisters maintain three orphanages, three hospitals and several clinics in the region to provide opportunities for the poorest young men and women of Africa.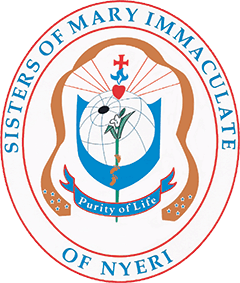 ---
-- Founded in Nyeri, Kenya --
-- by Bishop Filippo Perlo in 1918 --
-- the Sisters of Mary Immaculate of Nyeri --