Bath House


for Maria Immaculata Children's Center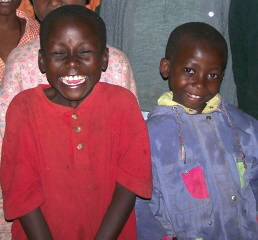 Our Missionary Sisters working in Nairobi (Kenya's capital city) are already seeing a tremendous increase in the number of children needing assistance. In Kiamumbi - a community within Nairobi where we have established the Maria Immaculata Center for Poor Children - there are more than 200 children living in a shelter that was originally built to house only 100 boys and girls! Additionally, the shelter only has one bath house! This means that more than 200 children must take turns waiting for only a few toilets and showers. The Maria Immaculata Center for Poor Children is also in desperate need of a larger kitchen as well as additional dormitories where the children can sleep!
Recently, we received word from Sr. Martha (who is in charge of the Maria Immaculata Center) explaining of the overwhelming need that these children have - and how the number of children coming to the Center continues to grow each day! "These boys and girls have nowhere else to go!" she explained. "If they do not get help here, then these little ones - some as young as five and six years old- will be sleeping on the streets and searching through garbage piles for something to eat! Is there some way you can help?"
We are praying that we can send at least $35,000 to help build another bath house and additional sleeping space for the children at the Center. Is there some amount you can send right now to help these children who are suffering so much, please? God bless you for whatever you can do!